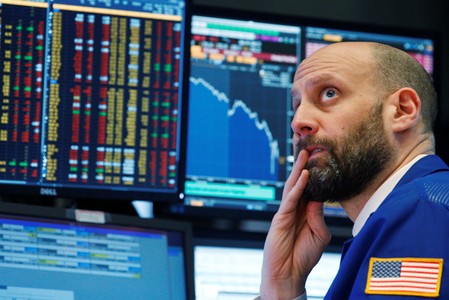 3 Things Investors Are Ignoring About The US Stock Market 
It looks like it's happy days again in the stock market. At the time of writing, the DOW is up 300 points, good for 1.25% on the day. Things apparently seem to keep getting better in America, with President Trump announcing a potential deal with China over trade. Yet, US stocks have just crossed – get ready for this – unchanged for the year. That's right folks; nearly two quarters through the year and US stocks have gained nearly nothing so far in 2018, and all this is happening at a time where investor expectations with regards to earnings expectations are at their zenith while overall sentiment about the stock market remains optimistic. That said, many investors are wrongly discounting the risks in the market; many in clear sight, and would be wise to tame their euphoria. Here are 3 things investors are overlooking US Stocks. 
Tech Stocks Are The Most Overvalued Relative To The Market Since 2009 
If you are invested in US Stocks, you are more than likely invested in Tech-Stocks, particularly the FAANG Stocks. The tech sector is trading at an 11% premium when compared to the broader market, the biggest spread since 2009, according to analysts at Bank Of America Merrill Lynch. These five stocks and Microsoft, account for a quarter of all gains generated by the S&P 500 index. In the early days of bull markets, the rising tide of improving sentiment lifts all boats. But as that bull market matures, the list of companies driving growth in the stock market index tends to narrow. As a consequence, many investors have crowded the FAANG stocks, pushing the prices up of the current market leaders, creating the illusion of better returns – at least for the time being. Because this won't last. Whether this is a consequence of robo-advisors, passive investing or simply fear of missing out, there is a real pricing inefficiency in large-cap US Stocks. The danger here is investors have lost sight of what it is they are investing for in the first place which is value. 
Easy Money Policies Are Coming To An End 
When the year began, everyone had been expecting central banks in Europe, Asia and in the United States to slowly but steadily end the decade-long era of easy access to money. You don't need a degree in finance to realize what will happen next: corporations will have to pay more to borrow and everyday people would have to pay more to finance purchases like a home, or a car, or service their personal debt. We got a taste of that in January, just as Janet Yellen passed the Fed Chair baton to Jerome Powell, and the DOW dropped 1,000 points in a day. You see, rising interest rates, or in this case, concerns over interest rates rising will have a knock-on effect in the stock market. A great deal of the money that is in the stock market, particularly in the last 12 months, is borrowed money. Investors are borrowing at basically ultra-low rates in order to invest in the stock market, which up until the beginning of this year was going up. 
Also, taking a look at what is happening in the cash and bond markets, higher interest rates will return higher yields on cash deposits as well as government bonds. Some investors are starting to ask themselves why invest in a highly overvalued stock, which carries a great deal of risk, when you could earn a similar amount of yield from a cash account or several sovereign bonds with substantially lower risk? So, with all this talk of equities being overbought in the first place, to go along with the prospect of higher interest rates, all of a sudden, investors will cash in their stocks and park their money in assets that will benefit from higher interest rates. 
Commodities Prices Are Rising, Despite Strength in The US Dollar 
This might sound like an oxymoron because in a way it is, but commodities and gold have produced double digit year-to-date returns despite the "strong" dollar. I put strong in quotation marks in the last sentence because the US dollar is anything but strong. While I will have admit, the US dollar index is up for the year, the DXY is up 1.55% year-to-date to be exact, it remains in a long-term bear market. As Bryan Rich describes in a post on Forbes from early this year, the US dollar is coming off it's bull cycle and is entering a bear cycle. This currency dynamic creates a favourable environment for commodities, as generally speaking, commodity prices and the US dollar share an inverse relationship. So far this year, commodities have experienced a 22% increase, while gold comes in at about half that, at just over 11%. If we have US$70 oil, and US$1300 gold while the dollar is perceived as strong, where will these prices end up in the next 3-4 years as the US dollar bear market reaches it's peak? 
What Should Investors Do? 
There is no shortage of companies and even nations that are going to benefit from this change in market dynamics. Relative to the S&P 500, commodities and gold appear to be more undervalued now than any other time this century. What investors should be thinking about now is how to allocate their assets accordingly; portfolios with a healthy access to base metals, precious metals and energy are poised to be beneficiaries in this paradigm shift in the markets. 
Legal Stuff 
The opinions expressed in this article are for general informational purposes only and are not intended to provide specific advice or recommendations for any individual or on any specific security or investment product. We are not financial advisors and we recommend you consult with a financial professional before making any serious financial decisions. 
http://time.com/money/5021517/stock-investing-market-dow-jones-fall/ 
https://seekingalpha.com/article/4139502-u-s-stock-market-overbought-overvalued 
https://www.cnbc.com/2018/03/21/tech-stocks-are-the-most-overvalued-relative-to-the-market-since-2009.html 
http://metals.visualcapitalist.com/commodities-the-top-asset-class-of-2018-so-far/